2023 Ford Bronco - Rugged Excitement for a New Age
Make a great escape and pilot the new 2023 Ford Bronco. This rugged SUV was built for the wild. For those brave adventure seekers, it's a treasure one can command, elevating your journey to greater heights. The Bronco is a Sport Utility Vehicle worthy of its namesake. Let us show you why.
PERFORMANCE
Forge ahead while crushing any obstacle in your path when piloting the new Bronco. This 4x4 SUV doesn't shy away from a challenge. And with its three available engine options, you have the equipment needed to start and end the journey in first place.
3.0-liter EcoBoost® - Delivers up to 418 horsepower and 440 pound-feet of torque.
2.7-liter EcoBoost® - Delivers up to 330 horsepower and 415 pound-feet of torque.
2.3-liter EcoBoost® - Delivers up to 300 horsepower and 325 pound-feet of torque
CAPABILITY
When the outdoors call, the 2023 Bronco answers. Its available steel bash plate protection, off-road tires, and elevated approach-breakover-departure angles help you confidently breeze over obstacles while protecting your undercarriage. And with our various HOSS systems and G.O.A.T. Modes, you're in control of every moment of your adventure
TECHNOLOGY
Enjoy more of what you love when exploring the roads and trails in the new Bronco. Our SYNC® 4 technology pairs perfectly with wireless Apple CarPlay® and Android Auto™ integration, delivering the most complete soundtrack to your next adventure.
INTERIOR & EXTERIOR FEATURES
Don't be afraid to get your feet dirty when exploring in the new Bronco. The rugged interior can take a beating and still look like new. Its durable design doesn't limit its comfort. With the driver-centric cockpit and sports-inspired seats, you'll have everything you need to enjoy a long-lasting journey.
Choose the two- or four-door option for a ride that's yours to control. Additionally, the rugged 2023 Bronco lets you choose between a hardtop or soft top option. It's truly a great way to experience stargazing or sunbathing while you enjoy the great outdoors.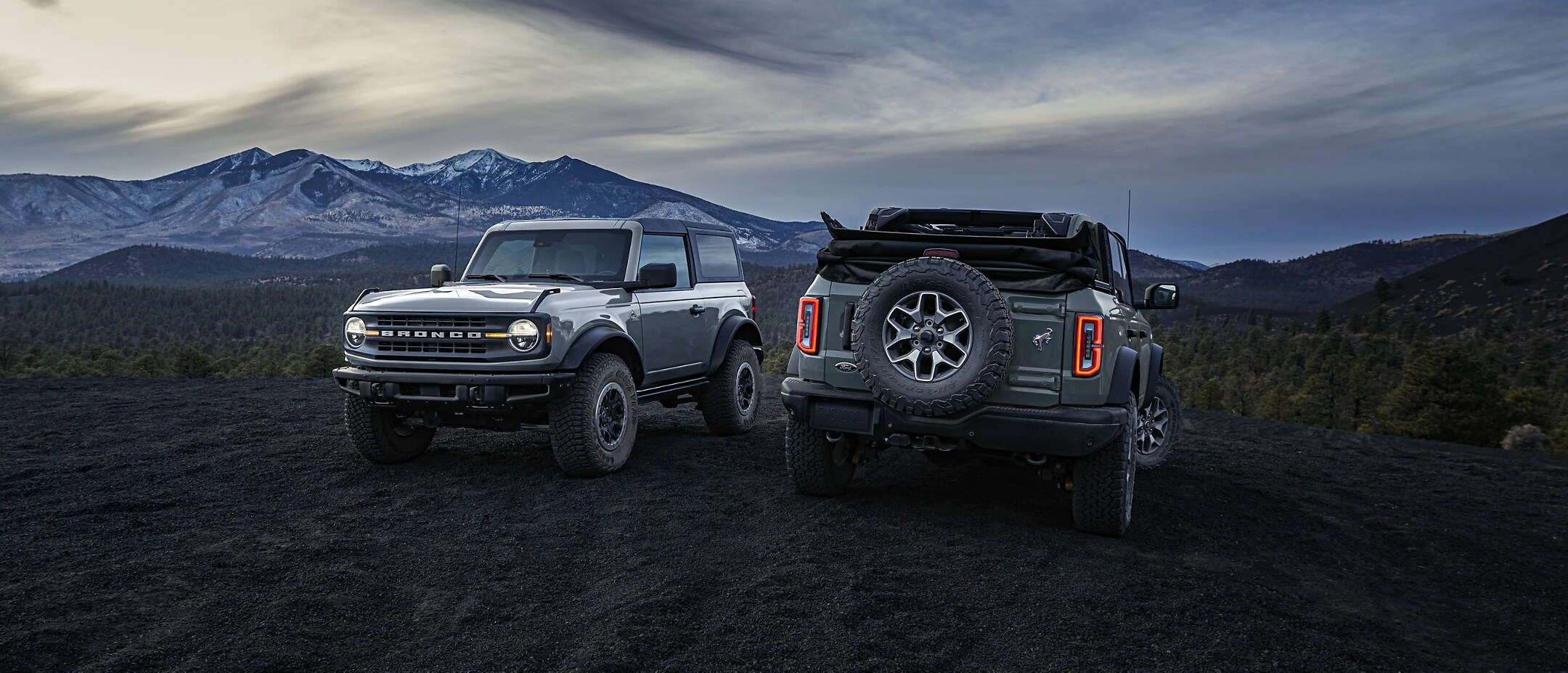 Exterior
Adventure Adaptable
A selection of easy-to-remove doors and tops. Purposeful off-road design. Rugged hardware and components. Attachable tents, multi-functional roof racks and accessories. Wherever your journey calls, Bronco® SUV answers.
Interior
Comfort Meets Durability
Depending on the series, the level of interior finishes goes from Standard (just the essentials) to Lux (with amenities like a big screen and a heated steering wheel). Choose yours depending on how dirty you plan to get, how much gear and passengers you'll carry, and how much style you want to bring to the trails.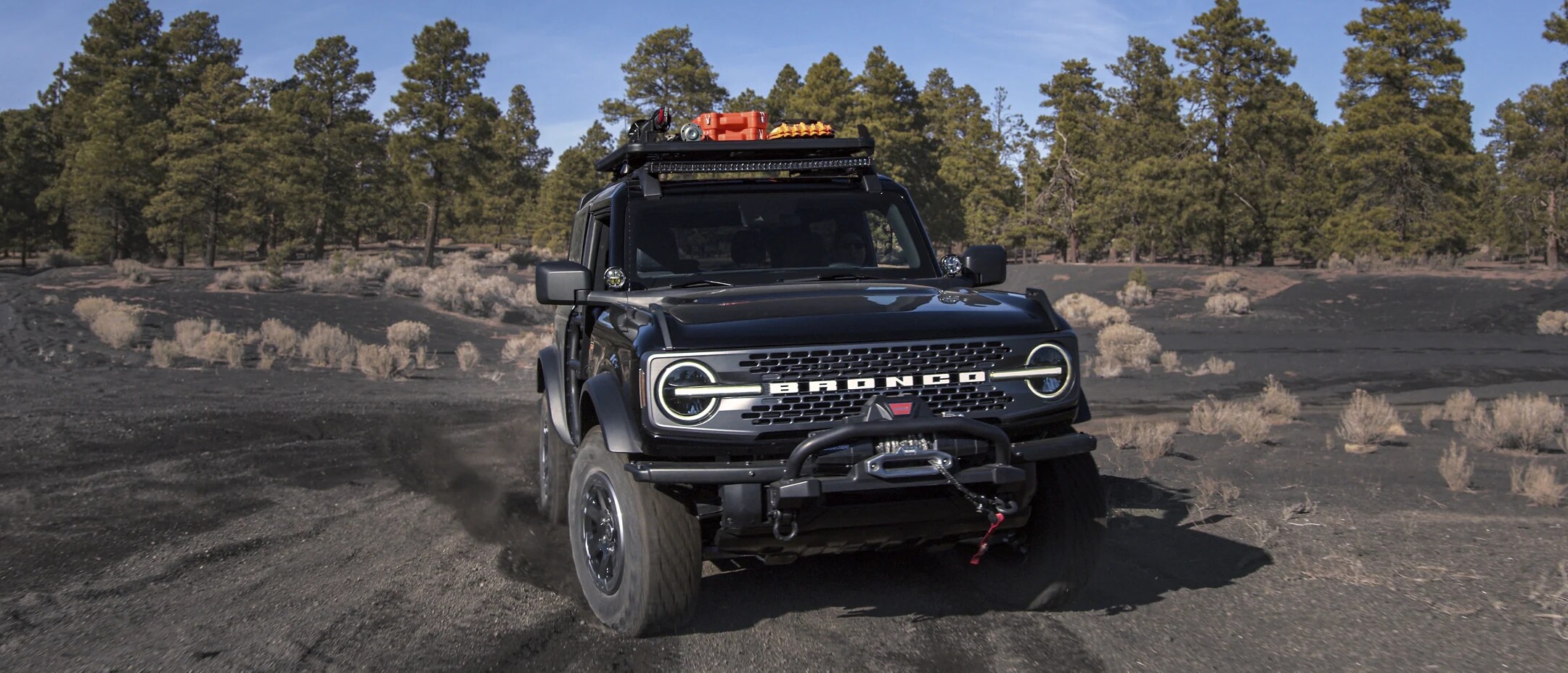 Accessories
Upfit With Accessory Doors, Tops and More
Choose from an expansive selection of interior and exterior accessories.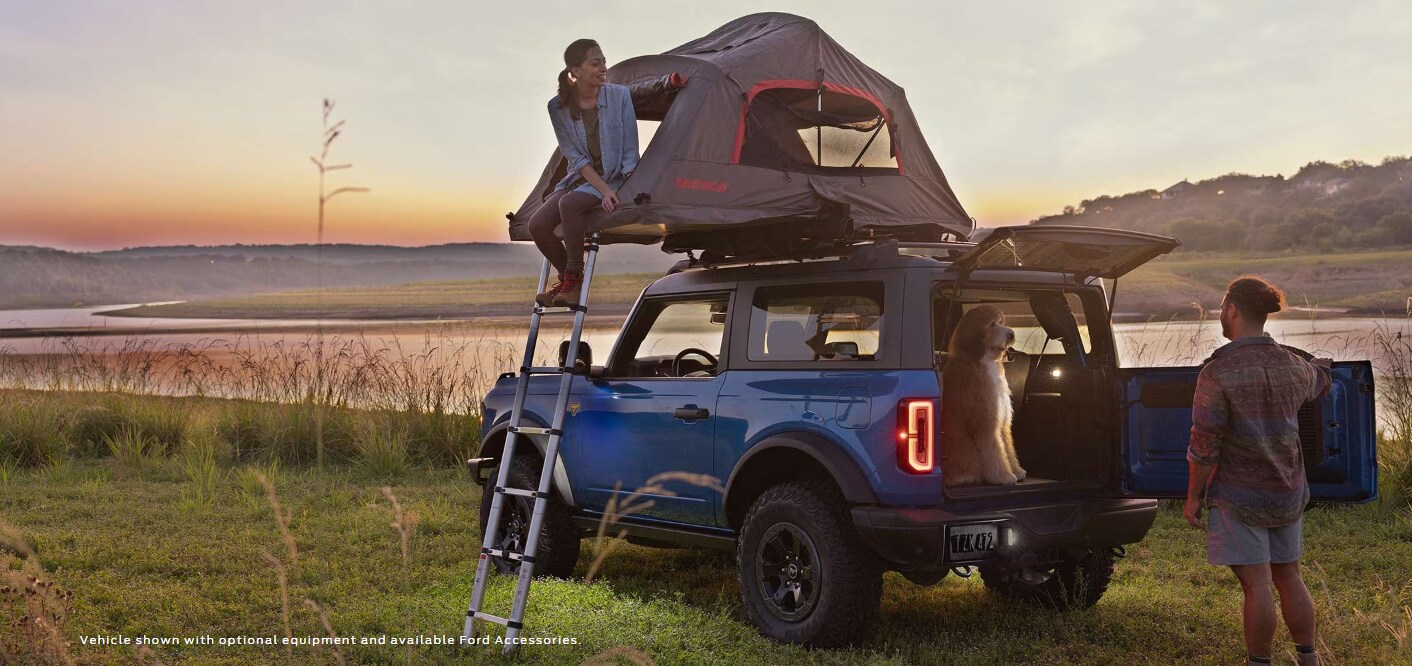 Test Drive a New 2023 Ford Bronco